Female Inmates File Lawsuit Alleging Rape, Sexual Abuse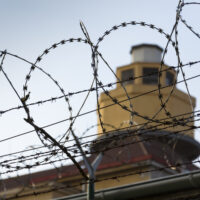 Female inmates at the nation's largest federal prison for women are alleging that they were raped and coerced into having sex by male guards of the Federal Correctional Complex Coleman in Sumter County.
One woman says that almost immediately upon entering the prison she was approached by a male guard who offered protection in exchange for sex. She says this male guard raped her for months on end every Wednesday before her work shift.
She is not alone. Fourteen other female inmates have alleged the same. In December, they filed a lawsuit against the Bureau of Prisons alleging that male corrections officers abused and sexually assaulted female prisoners at the facility. The women allege that the abuse, in some cases, lasted for years. The women allege that the guards issued various threats to coerce their compliance.
Six of the accused officers admitted to having sexual contact with inmates.
The Officers Say the Sex was Consensual 
There is no circumstance under which a guard having sex with an inmate doesn't constitute rape or abuse. The power dynamic in place makes any form of consent impossible. Most of the officers who admitted to having sex with inmates were forced to resign, but many still collect government pensions or disability payments. In other words, other than losing their jobs, the guards faced no consequences for repeatedly raping inmates.
Coleman was a "Sanctuary" for Rapists
According to the federal lawsuit filed against the Bureau of Prisons, the facility became a "sanctuary" for rapists. The women were forced to interact with the guards for their jobs and were told that if they resisted the sexual advances of the guards, the guards could make their situation much more uncomfortable. The guards typically threatened to send the women to another facility where they would have fewer work and educational privileges.
The lawsuit filed on behalf of 15 inmates will head forward to a settlement conference in November. If terms cannot be agreed to, then the case will move to trial.
The Easy Way or the Hard Way 
Guards, like just about every other kind of law enforcement, like to ask anyone in their power if they'd prefer to do things the hard way or the easy way. In this case, the easy way was female prisoners making themselves available to male guards for sexual gratification. One individual named in the suit was accused by 10 different women with assaults going as far back as 2014.
Talk to a Miami Personal Injury Attorney
If you've suffered institutional abuse, then you have every right to file a lawsuit and recover damages for any medical or psychological injuries you may have suffered. Call the Miami personal injury attorneys at the office of Alan Goldfarb, P.A. today to schedule a free consultation and learn more about how we can help.
Resource:
tampabay.com/news/florida/2020/09/17/no-consequences-after-florida-officers-admit-to-sexually-abusing-inmates-lawsuit-says/
https://www.goldfarbpa.com/family-of-woman-who-choked-in-care-home-files-lawsuit/