Firefighter Sues Homeowner Over Injuries Sustained During Blaze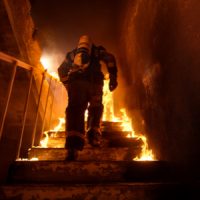 A Buffalo firefighter is suing the homeowner whose house he helped save after he sustained serious burn injuries in the incident. He is one of four firefighters who were injured during the blaze. The firefighter suffered burn injuries to his face, head, torso, trunk, and more. He also says he has PTSD from the incident.
In years past, states such as New York and Florida have a so-called "firefighters" rule that prevents emergency responders from filing torts that occur in the line of duty. These laws have been abolished in both New York and Florida and are no longer enforced by courts in either state. Today, firefights can sue tenants, homeowners, or landlords if some negligence results in a fire that a firefighter is injured putting out.
Understanding the Fireman's Rule 
The fireman's rule applies to all emergency responders including EMTs and police officers. Essentially, it is similar to the "foul ball" rule in baseball. An individual is assumed to have accepted the risk of being struck by a foul ball while in the stadium. Similarly, firefighters and emergency responders are considered to have assumed the same risk.
These rules were wildly unpopular. Even when the entire nation is angry at police officers, firefighters are among the most beloved government employees there are. Nonetheless, it was police officers who sounded the alarm about this rule being unfair. The first cases stemmed from incidents in California where criminal defendants led squad cars on high-speed chases, sometimes causing accident or injury. The police officers lobbied the government to change the rule and allow them to recover damages from criminals and won.
Florida Abolished the Fireman's Rule 
Florida abolished the fireman's rule. Essentially, many of these cases involved premises liability, and firemen and others were considered "licensees" under the law. A licensee has fewer rights to sue than an "invitee" or someone who is invited onto the premises with the consent of the owner. Under the Florida Statute, this requirement was abolished.
Now, if a firefighter is injured on someone's property, they have all the same rights to file a lawsuit against the property owner as anyone else who was invited onto the property. They are still required to prove that the property owner was negligent and created an undue risk to themselves and others.
In this case, the firefighter is claiming that faulty electrical work is responsible for the fire that caused his injuries. He is not the first firefighter to file a lawsuit against the homeowner. It is unclear if the homeowner did the repairs himself or paid someone else to do it. That could change things significantly.
Talk to a Miami Personal Injury Attorney 
If you've been injured due to the negligence of a property owner, call the Miami personal injury attorneys at the office of Alan Goldfarb, P.A. today to schedule a free consultation and learn more about how we can help.
Resource:
flsenate.gov/Laws/Statutes/2011/112.182
https://www.goldfarbpa.com/nfl-sued-after-concussion-settlement-allegedly-discriminates-against-black-players/