Jet Skier Sues Waterboat Driver After Waves Cause Injury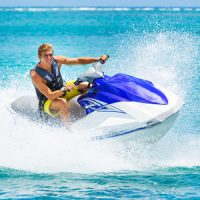 If you run over a jet skier with your speed boat, you can certainly be sued for any injury you cause. But what about when your speed boat approaches too closely to a jet skier, and the waves resulting from pass cause injury? Just such a boating accident lawsuit is about to play out in Virginia Beach.
Jet skier Erik Simmons says that a racing speed boat approached behind him. As it passed, it left a massive "fast-moving" wake that came rushing in toward Simmons. Simmons was ejected from his jet ski and suffered a broken leg. He is seeking nearly $1 million in damages from the owner of the boat.
Is This a Maritime Accident? 
Maritime accidents, or incidences that happen on the high seas, have major limitations. The laws that govern these lawsuits were passed in 1851 and haven't changed much since then. Essentially, because the accident happens in water, where jurisdictional issues can be clouded, the lawsuit must be filed under the test of the 1851 law. The law limits damages to the value of the entire boat and prevents certain types of lawsuits from moving forward. As an example, lawsuits alleging negligent or intentional infliction of emotional distress must be accompanied by a literal physical injury. In this case, we have one, but the value of the boat is $300,000, not the $1 million that the plaintiff is asking for.
The attorney representing the defendant is smart to raise the defense that this is a maritime accident. A federal court will be required to rule on that question stalling the proceedings for at least as long as it takes to decide the matter. Generally, there are two criteria to be met before maritime jurisdiction can be established. First, the injury must occur on navigable waters. Second, it must have some element of maritime commerce. While we can be certain that the accident occurred on navigable waters, the question of whether or not there was an element of maritime commerce is traditionally difficult to establish, and the courts have spent a lot of time scratching their heads over the matter. Two people enjoying their boats and jet skis does not appear to rise to the standard of any form of commerce. So, we'll assume that maritime jurisdiction does not apply in this case.
The Defendant's Argument 
Police approached the defendant and told him his boat matched the description of one that had been involved in an accident that left one boater injured. The defendant told police that he didn't see any accident and hadn't been involved in one. He said that other jet skiers were jumping the wakes of passing boats.
However, pulling up too closely to the jet skier likely caused this accident to occur. A jury will need to determine if the defendant could have foreseen that outcome. If he could, then you have negligence.
Talk to a Miami Personal Injury Attorney
If you've been injured in navigable waters, call the Miami maritime attorneys at the office of Alan Goldfarb, P.A. today to schedule a free consultation and discuss your injuries in more detail.
Resource:
pilotonline.com/news/vp-nw-jet-ski-lawsuit-20210202-2oljlycfs5hktheqyfhazyh74q-story.html
https://www.goldfarbpa.com/nutribullet-blenders-explode-claims-lawsuit/