Miami Developer Sued After Running Over Swimmer in Boat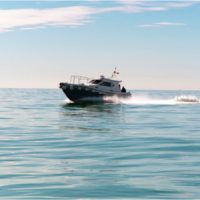 Theresa Murray, a Miami chef, has filed a lawsuit against Miami developer Irwin Tauber after Tauber allegedly ran her over in his motorboat. Her lawyer says that Murray suffered permanent injuries which will make it difficult for her to stand or run and may prevent her from engaging in her chosen profession.
Tauber is further accused of leaving the scene without rendering assistance. Lawsuits like this depend heavily on where the swimmer was relative to the boat.
What Happened?
Murray was swimming in shallow water where swimmers generally go to join the manatees. In other words, it's not a place where boats belong, and if boats are allowed in this area, then the lawsuit could be filed against the property managers instead of the boater.
According to the lawsuit, Murray yelled at Tauber after he hit her. Tauber yelled back that she should have been wearing a dive flag and that he was going slowly through the swimmer-laden area.
Murray's foot and lower leg were injured by the boat's propellers. Nerves, tendons, and muscle were cut to the bone, according to the complaint. Tauber is also facing a misdemeanor charge related to the incident. He has pleaded not guilty.
Tauber's Defense 
Tauber has no legitimate defense to either the civil or criminal charges. There is no situation in which failing to render aid to an individual you injured is acceptable. Tauber will say that the swimmer should have been wearing whatever, but that's not a defense to failing to render aid. It may be a defense to attempted murder, which Tauber has not been charged with. But it is not a defense to failing to render aid after causing serious injury. That is a violation of the law. Tauber should be found guilty and he should have to pay the woman's damages in triplicate for committing an act that showed a wanton disregard for the safety of another human being. Murray was eventually rescued by a paddleboarder after Tauber had ridden off in his boat.
Her attorney says that Murray will have difficulty walking, standing, and running. Since chefs are required to be on their feet for several hours, and Murray can no longer work, Tauber would be on the hook for the wages she would collect prorated to her retirement age. That's at least 13 years' worth of wages. He is also on the hook for her medical expenses, and because he failed to render aid, punitive damages should be assigned in this case.
To reiterate, Tauber has a solid defense to intentionally harming the woman but has no defense to riding off without rendering assistance.
Talk to a Miami Personal Injury Attorney
If you've been injured in a boating accident during which the boater broke the law, you are entitled to recover damages for their negligence, same as you would in a car accident. Call the Miami personal injury attorneys at the office of Alan Goldfarb, P.A.
https://www.goldfarbpa.com/elderly-man-assaulted-on-metromover-files-lawsuit/