Late Insurance Approval Costs Woman Her Legs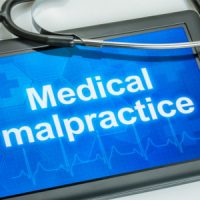 A woman is suing her health care insurance company after it delayed approval of an MRI that ended up costing her a leg, hip, and part of her pelvis. The woman's doctor requested that her insurance company approve an MRI. The MRI was delayed by over a month but would have uncovered an aggressive form of cancer that was damaging her bones. Because the MRI was delayed, the woman lost her leg. Now, she's suing.
Insurance Company Insists MRI is "Not Medically Necessary"
Group Health Inc. and the unfortunately named eviCore reviewed the request submitted by the woman's doctor but found that the procedure was "not medically necessary". In other words, the insurance company overruled the woman's doctor.
The insurance company and their claims management company incorrectly assumed that the problem was orthopedic. The patient had come in complaining about pain in her hip. The insurance company recommended six months of physical therapy before the MRI. However, the woman had already gotten several weeks of physical therapy and it did not improve her pain.
So, the woman is suing on the basis that the two companies had not even bothered to review their records of procedures that they had already paid for. They then provided a medical opinion that was so off the mark, it would be funny if there wasn't a victim involved.
The woman's doctor fought the insurance denial, but it was forty days later until the approval came in. The MRI revealed a sarcoma in her hip. Had she been there a month sooner, she could have gotten chemotherapy.
Bad Faith Insurance Denial
This is not a medical malpractice lawsuit, but a bad faith insurance denial lawsuit. The insurance company denied the claim without bothering to look at their policyholder's chart and then began the process of denying, delaying, and defending while the cancer ate through her body. Bad faith insurance lawsuits are tort lawsuits. The victim is seeking over $2 million in damages based on chronic pain and suffering and permanent disfigurement. So this is a pretty cut and dried case of an insurance company recommending medical treatment that the victim had already gotten.
In this case, the victim will likely be able to recover pain and suffering damages for her decreased quality of life and permanent disfigurement. Meanwhile, the insurance company will end up paying millions of dollars because they didn't want to cover an MRI. It is also likely that the plaintiff will be able to recover punitive damages in this case, since their behavior was appalling enough to warrant punishment and to discourage them from denying claims without reviewing their policyholders' medical records.
Talk to a Miami Personal Injury Lawyer 
If you've been injured by another's malice or negligence, you are entitled to recover damages related to medical costs, lost wages, and pain and suffering. Call the Miami personal injury attorneys at the office of Alan Goldfarb, P.A. today to learn more about how we can help.
Resource:
nypost.com/2020/10/06/woman-loses-leg-after-insurance-delays-mri-cancer-diagnosis/
https://www.goldfarbpa.com/judge-allows-tourist-to-seek-punitive-damages-in-water-slide-injury/