Regulation Requires Commercial Truck Operators To Electronically Record Time On The Road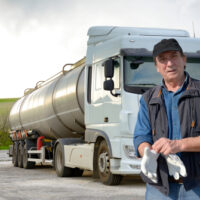 The National Transportation Safety Board conducted a study of 182 commercial truck accidents and discovered that 31 percent of these major collisions involved a truck operator who was fatigued, according to the New York Times.
The prevalence of fatigued commercial truck operators served as a basis for the Federal Motor Carrier Safety Administration establishing a new regulation that requires commercial truck drivers to electronically record their hours while they are behind the wheel, according to Fox 2 News.
Commercial truck drivers have been required to maintain hour logs since 1938, but federal regulators and trucking safety advocates pointed out the fact that paper logs can easily be manipulated or "lost" by the truck driver, or their employer, after a collision.
Mandating the use of electronic hour logging devices will help combat against this type of abuse by automatically recording the amount of time a truck driver has been on the road. These devices can also monitor vehicle movement, the total number of miles driven and even the exact location of a big rig.
This data will enable roadside safety inspectors to discover violators, hopefully, before a serious accident occurs.
Regulators estimate that these electronic monitoring devices will provide savings in the realm of $1 billion per year just by reducing the amount of paperwork that needs to be filled out by trucking companies and regulators.
More importantly, regulators anticipate these new devices will help save more than 25 lives and prevent more than 550 injuries each and every year as a result of a drop in the percentage of fatigued truck operators on roads and highways.
Push Back from the Trucking Industry
Despite the data showing financial savings, lives saved, and injuries prevented, the trucking industry is not happy with this new regulation. For example, the Owner-Operator Independent Drivers Association filed a lawsuit in an effort to stop this regulation from going into effect. Fortunately, their efforts did not prove fruitful and the regulation went into effect.
What To Do After a Truck Accident
If you or a family member was involved in a serious accident caused by a drowsy or fatigued truck driver, it is important to take legal action right away to ensure the data maintained in these monitoring devices is preserved and accessible by your legal counsel. Even with this safety regulation in effect, it can prove challenging to get a copy of the "black box" data maintained in most tractor-trailers. This is why your Miami truck accident attorney should immediately send a letter to the trucking company requesting that any and all electronic evidence from the big rig be preserved as soon as possible.
Injured in a Truck Accident? Speak to a Miami Truck Accident Lawyer Today
If you or a loved one suffered a serious injury in a wreck caused by the carelessness or fatigue of a commercial truck operator, swift action in retaining top-notch legal counsel is strongly recommended. Call the Miami personal injury attorneys at the office of Alan Goldfarb, P.A. today to schedule a free case review.
Resources:
nytimes.com/2014/06/17/business/truckers-resist-rules-on-sleep-despite-risks-of-drowsy-driving.html
fox2now.com/2016/01/05/new-laws-will-affect-how-truck-drivers-log-hours/