Supreme Court Decision Impacts Expert Testimony in Personal Injury Suits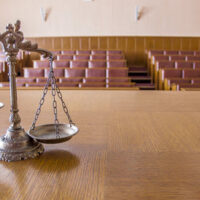 In complex personal injury lawsuits that require the testimony of field experts, medical doctors, scientists, or other professionals, there are two different standards that courts use to determine the veracity or utility of an expert's testimony. Of those, The Daubert Standard is the more difficult to meet.
The admissibility of expert testimony has become a battleground for business interests and plaintiff's attorneys in complex personal injury lawsuits. For obvious reasons, business interests lobby state and federal legislatures for tougher standards in regards to expert witnesses. Plaintiff's attorneys generally prefer laxer standards. A recent Florida Supreme Court decision now makes it more difficult for plaintiffs to find expert witnesses to testify on their behalf. Below, we'll take a look at Daubert Standard and its application in personal injury lawsuits.
Understanding the Daubert Standard
The Daubert Standard is adapted from federal rules of evidence. In other words, claims filed in federal court already are required to abide by this standard. The Federal Rules of Evidence 702 stipulates that:
The expert witness must provide scientific, technical, or specialized knowledge that helps a litigant establish a fact or understand the evidence;
The expert's testimony is based on sufficient facts or data;
The expert's testimony is the product of reliable principles or methods; and
The expert has applied the principles scientifically in the case.
Based on these requirements, a judge can order that an expert's ruling be included or excluded from the case.
Understanding the Frye Standard
The Frye Standard is much simpler than the Daubert Standard. The Frye Standard states that an expert's opinion should be admissible if it is the product of a "generally accepted" scientific principle, technique, or application. While the standard is lower, it is still high. You couldn't, for instance, use a medium to contact the dead person in court to determine who killed them. The use of mediums is not a generally accepted scientific standard.
The Frye Standard is thus not "too permissive" but rather, less open to the subjective assessment of a trial judge. In order to employ the Daubert Standard, a judge must make a determination on whether an expert in a field (of which the judge is not) passes a specific litmus that is very open to interpretation. For instance, a judge is asked to determine if an expert's testimony is based on sufficient facts or data. However, what is the threshold for sufficiency? That's up to the judge.
For that reason, business interests can leverage that ambiguity to get expert testimony tossed out in cases where the witness is simply echoing the prevailing scientific thinking. This is particularly odd because it's the judge who decides on whether scientific principles are being used scientifically when they likely have no qualifications to do so.
Talk to a Miami Personal Injury Attorney
If you've been injured by someone's carelessness, recklessness, malice, or negligence, the Miami personal injury attorneys at the office of Alan Goldfarb, P.A. can help you recover damages related to your injury. Give us a call or talk to us online to set up a free consultation.
Resource:
gainesville.com/news/20190523/state-supreme-court-reverses-course-on-expert-witnesses