Trampoline Park Customers Report Serious Injuries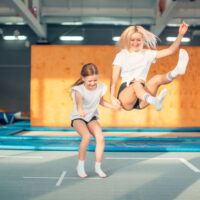 Trampoline parks are in the news again as customers report serious injuries they suffered while partaking in jubilant bouncing. Injuries such as broken bones, dislocated bones, joint injuries, and brain injuries were among the most commonly reported. Emergency calls placed to 911 detailed the frequency and extent of the injuries suffered by customers of the parks. Many are now wondering what can be done to make the trampolines safer.
When a trampoline park is sued by an injured customer, the customer must show that the park created a dangerous environment that would have eventually caused someone an injury at some point. While trampoline park customers assume some liability when they use the facilities, the trampoline park is still responsible for creating a safe environment. This is especially true when a large cross-section of their visitors are children.
Sometimes the Conditions are Not Safe
While trampoline parks do what they can to make their parks safe for children, a number of the injury reports seem to suggest that there are serious problems that park designers should have (but failed) to anticipate.
In one case, a young girl fell off a ledge and hit her head on the way down. When one of the park employees called 911 for emergency help, he reported that she was vomiting. The girl, who was four years old, had obviously suffered a concussion.
Over the past seven years, there have been six reported deaths at trampoline parks. In 2017 alone, there were 18,000 visits to the emergency room that began inside trampoline parks. Trampoline park proprietors say that the number of injuries is about the same as other youth activities including sports like basketball, baseball, and soccer.
Trampoline Parks Have Rules
While there are certainly instances of trampoline parks being unsafely designed, trampoline park owners claim that the majority of accidents involve children (or adults) who are not following the safety rules. In still other cases, trampolinists try to do acrobatic flips that they see other people doing and they end up landing on their heads. Even in cases where they land on the trampoline, this can result in serious neck injuries and even paralysis.
Sometimes, however, the design of the trampoline park itself is not safe. For instance, in cases where there is a trampoline situated with unpadded ground beneath or around it, bouncing people can fly off the trampoline and seriously injure themselves.
Determining liability in such cases forces the plaintiff to show that there was negligence in the design of the park or the trampoline itself. In cases where a patron was using the trampoline unsafely, it becomes much more difficult to lay the blame at the park's feet.
Additionally, many trampoline parks force customers to sign liability waivers or arbitration clauses to avoid potential litigation.
Injured at a Trampoline Park?
The Miami personal injury attorneys at the office of Alan Goldfarb P.A. can litigate a park injury on your behalf. In some cases, the liability waivers are not enforceable but are only meant to scare you off from filing a suit. Contact us today and we can talk about your situation free of charge.
Resources:
cbsnews.com/news/trampoline-parks-rising-in-popularity-expert-warns-of-catastrophic-injuries/
clickorlando.com/news/911-calls-detail-trampoline-park-injuries-in-central-florida
https://www.goldfarbpa.com/florida-man-trampolines-off-cruise-ship/