Tragic Accident On Cortez Boulevard Results In Death Of Child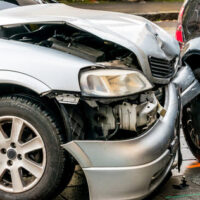 The sudden and unexpected death of a loved one is a gut-wrenching, traumatic experience for anyone to suffer through. But the pain is made that much worse when the victim was a child who had their whole life ahead of them. An unfortunate example can be found in the car crash that occurred on Cortez Boulevard near Sunrise Boulevard in Fort Pierce.
A 29-year-old man was driving on Cortez Boulevard when he failed to stop at a clearly marked stop sign and slammed into an unoccupied pickup truck that was parked across the street on Sunrise Boulevard.
Two children who were passengers in the vehicle suffered the brunt of the damage. A 9-year-old boy was killed and his 6-year-old sister suffered serious bodily injuries, including a broken left arm and right leg, that necessitated her being transported by rescue helicopter to St. Mary's Medical Center in West Palm Beach, according to TCPalm. The 6-year-old child told police that the driver was going fast and they told him to slow down.
Driver Has Checkered Past
The reckless driver who caused this awful accident has a record that reflects his poor decisions and driving abilities. For example, he was cited in Miami-Dade County for careless driving and driving with a revoked Louisiana license in 2008. He also had his Florida driver's license revoked in 2011 after being convicted for driving under the influence of alcohol or drugs.
What To Do After a Serious Car Crash
If you suffered a serious injury, or lost a loved one in a car crash, it is important to take action and retain the services of an experienced Miami car accident lawyer. Florida is a "no fault" state meaning you can gain access to financial compensation through Personal Injury Protection (PIP) benefits without an assessment of fault. However, if your damages exceed $10,000, you will likely need to file a personal injury claim against the at-fault driver's insurance company. This is where an attorney can prove to be invaluable. An attorney can pursue financial restitution for the following types of harms and losses:
Medical bills, which include the cost of emergency room care, surgery, physical therapy, prescription medications, etc. This also includes the cost of future medical care that you may need for months or years in the future.
Lost income due to time you had to take off from your job to recover from your injuries. If you are unable to return to your job due to the extent of your injuries, you can pursue lost income that you would have been in the future (i.e. damages for lost earning capacity).
Pain, suffering, mental anguish, and other forms of non-economic damages.
Injured in a Car Accident? Now is the Time to Contact a Miami Car Wreck Lawyer
If you or a family member was badly hurt in a car wreck caused by the carelessness of another driver, contact the experienced Miami personal injury attorneys at the office of Alan Goldfarb, P.A. today to schedule a free case review.
Resource:
tcpalm.com/story/news/local/st-lucie-county/2017/12/28/driver-christmas-day-crash-killed-9-year-old-boy-had-license-revoked-after-dui/986833001/