What To Do After a Serious Motorcycle Accident in Florida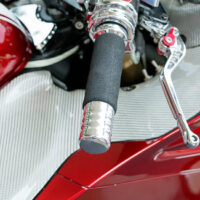 You are enjoying a ride on your brand new Harley headed west on Southeast 2nd Street when a pickup truck suddenly slams into you after running a red light. Your motorcycle is demolished and you suffer catastrophic injuries in the collision including broken bones, torn ligaments, and nerve damage. What do you do?
Unfortunately, many Floridians find themselves in this type of situation. Motorcycle accident injuries have increased every year between 2011 and 2013. In 2012, motorcycle accident deaths actually accounted for 15 percent of all motor vehicle deaths in Florida.
What To Do After a Motorcycle Accident
If you were seriously injured in a collision, you need to take some important steps to ensure vital evidence is preserved thereby strengthening your personal injury claim against the at-fault driver. If you are physically able, call the police and make sure a police report is filed. If possible, take photos of your motorcycle and your injuries. Also, get the at-fault driver's name and auto insurance information. Seek medical treatment right away and keep all documents and invoices from your treatment since it could be used as evidence in a motorcycle accident injury case.
Pursuing Financial Restitution for Your Harms and Losses Stemming from a Motorcycle Accident
If you file a personal injury claim against the reckless driver, you may be able to pursue an array of economic and non-economic damages that are intended to make you whole.
Economic damages include medical expenses, lost wages while unable to work, and diminished earning capacity if you suffered a permanent injury that will prevent you from returning to work.  Economic damages are fairly straightforward to calculate since you generally tabulate invoices and bills for all costs you incurred.
Non-economic damages are more difficult to calculate because they cover those intangible harms and losses. These damages are often referred to as "pain and suffering." They include the mental and emotional trauma stemming from the accident including anxiety, anguish, fear, and diminished quality of life.
Recovering Damages Requires Proof of Negligence
In a personal injury claim, the injured party carries the evidentiary burden of establishing that the defendant was negligent and that negligence proximately caused your injuries. In a motorcycle accident case, this generally includes showing the defendant breached a duty of care. For example, if the driver of a sedan, SUV, or pickup truck was intoxicated, speeding, or texting on their phone and wound up hitting you, then this is a breach of their duty to operate their vehicle in a safe manner. Once you establish that a breach of duty occurred, you then need to show proximate causation and actual damages (e.g., the aforementioned medical bills, lost wages, pain and suffering, etc.).
Speak to an Experienced Miami Motorcycle Accident Lawyer Today
As you can see, pursuing damages through a motorcycle accident injury claim requires collecting evidence, investigating the accident, and persuading a judge or jury to side in your favor. This is why you need to contact Alan Goldfarb, P.A. to discuss your potential case. Our team of experienced Miami motorcycle accident lawyers are here to help.
Resources:
orlandosentinel.com/news/traffic/os-motorcycle-deaths-bike-week-20170311-story.html
wctv.tv/home/headlines/Florida-1-for-Motorcycle-Fatalities-370981991.html