Motorcycle Accident On 17th Avenue Bridge Results In Loss Of Life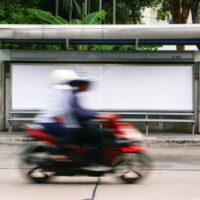 When a collision occurs between a motorcycle and a larger vehicle, the operator of the motorcycle often bears the brunt of the damage. A tragic example is the collision that occurred on the 17th Avenue Bridge over the Miami River. Police closed the bridge from Northwest North River Drive to Northwest South River Drive after a motorcyclist and a motorist were involved in a serious collision. The motorcyclist had to be transported to Jackson Memorial Hospital due to the severity of his injuries. Unfortunately, he did not survive, according to the Miami Herald.
Serious Motorcycle Accidents Quite Common in Florida
The Orlando Sentinel reported that Florida is ranked No. 1 in the total of motorcycle accident deaths.
The Sentinel mentioned that, in 2015, more than 600 motorcyclists lost their lives in collisions with other motorists. That represented a 30 percent increase since 2014.
This means that someone operating a motorcycle is at a much higher risk of suffering a serious bodily injury or loss of life while traveling on Florida roads and highways. In fact, a study conducted by AAA indicated that motorcyclists accounted for approximately three percent of all registered vehicles in Florida but are part of approximately 20 percent of all deadly motor vehicle collisions in the Sunshine State.
Common Causes of Motorcycle Wrecks in Miami and Across the Country
There are multiple reasons and contributing factors that create an environment where a serious motorcycle accident can occur. Nevertheless, in many instances, the cause of serious wrecks between motorists and motorcycles is a negligent driver. Despite having the exact same rights and authority to travel on roads and highways, the drivers of sedans, SUVs, and other vehicles fail to see an oncoming motorcyclist or don't show a motorcyclist the same respect when changing lanes as if they were dealing with another large motor vehicle. Here are some other common causes of accidents between motorcyclists and motorists:
Intoxicated motorist – these motorists can often be identified by their driving habits, such as swerving or driving erratically
Texting and driving
Motorist traveling well above the posted speed limit
Motorist fails to yield at a four-way stop
Motorist fails to stop at a posted stop sign
Motorist fails to check their blind spot before changing lanes or coming on or off a highway
Motorists fail to check to see if a vehicle is oncoming before opening their door
Hold the Negligent Motorist Accountable for their Reckless Actions
If you or a family member was operating a motorcycle and got involved in a collision with another motorist, you may be able to file a motorcycle accident injury claim to hold the negligent motorist accountable for their reckless actions. This type of civil claim allows you to pursue financial restitution for medical bills, lost wages, and pain and suffering.
Injured in a Motorcycle Accident? Contact a Miami Motorcycle Crash Lawyer Today
Do not let the negligent motorist evade responsibility. Take legal action and pursue the compensation you are rightfully owed. Contact the experienced Miami motorcycle accident injury attorneys at the office of Alan Goldfarb, P.A. today to schedule a free case review.
Resources:
miamiherald.com/news/local/community/miami-dade/article192776609.html
orlandosentinel.com/news/traffic/os-motorcycle-deaths-bike-week-20170311-story.html