ATV Accident Injures Man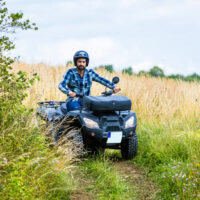 A man was critically injured when his all terrain vehicle crashed into a fire truck in Lauderhill one recent Wednesday morning. The accident resulted in the ATV ending up under the fire truck; the man on the ATV required surgery for internal damage, according to reports. Though there were three firefighters also involved in the collision, which occurred as they were responding to a medical call, none of them were injured. According to authorities, the ATV was not legal to be ridden on a street; instead, it was a small vehicle designed for use by a child.
The Law Surrounding Use Of Non-Traditional Vehicles On Florida Roadways

It is not unusual, particularly in Florida, to hear of accidents involving all types of vehicles, some of which are not meant to be used on public roads. However, over recent years, use of these types of vehicles has become widespread. In Florida, the use of golf carts, another non-traditional vehicle, has become commonplace. As the practice has spread, laws regarding the safe usage of these vehicles on public roadways have been enacted to help keep everyone safe while on the roads. Florida Code Section 316.212 sets forth the law with respect to using golf carts upon public roadways. In general, operating a golf cart on a public roadway is against the law – unless it falls into one of many different exceptions. These exceptions include the requirement of being designated by the proper authorities for the use of golf carts for certain specific purposes  after sufficient testing and investigation into the safety of the usage. In general, the law requires that golf carts may only be used on these specific roadways under the established circumstances during daylight hours; requirements for certain safety features on the golf cart and age limits for golf cart drivers are also covered in this comprehensive law.
Accidents Despite Safety Measures

Regardless of the safety measures required by Florida law, accidents can and will still occur and riders of these vehicles will be injured. Florida, with its abundance of retirement communities and outdoor enthusiasts of all ages, has, arguably one of the highest rates of golf cart usage – even off the golf courses themselves – in the country. The advantage of being able to use a golf cart instead of a traditional vehicle is an important one to many Floridians – between cost savings and autonomy after one is no longer able to drive a traditional vehicle due to health and other issues, driving a golf cart allows many to enjoy their freedom longer.
Alan Goldfarb, P.A. –  Your Personal Injury Attorneys

If you or a loved one have been injured in an accident involving a non-traditional vehicle such as an ATV or golf cart, you may be entitled to compensation for your injuries and losses. Speaking with an experienced personal injury attorney is the best way to learn about your rights and responsibilities under Florida law – and the attorneys at the office of Alan Goldfarb, P.A. are here to help you do just that. Our experienced Miami personal injury attorneys will go over the facts of your case with you to help you know the best way to proceed. Contact us now to get started today by scheduling your no cost, no obligation consultation.
Resources:
local10.com/news/small-atv-collides-with-broward-sheriff-fire-rescue-truck-in-lauderhill
baby-boomer-retirement.com/2013/03/golf-cart-friendly-retirement.html