Crash Landing Ruins Family Vacation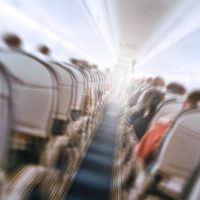 A family that was reportedly taking "their last big vacation together" is suing American Airlines after a turbulent landing forced them to get medical attention and cancel most of their trip. The family said it was going to be one of their last big vacations with an elder family member. However, the rough landing of the plane caused injuries to one or more family members requiring them to get medical attention and cancel the remainder of their trip. None of the family's injuries are listed in the lawsuit. The lawsuit seeks at least $25,000 and mentions pain and suffering specifically.
What's not there is often more important than what is 
In lawyer-speak, we're not allowed to lie, get a client to lie, or otherwise make material facts that are untrue. Due to this, we often couch our responses in things that we can say. In this case, the family appears not to have been severely injured in the incident. If any of the family members were seriously injured, you would bet that information would have made it into the complaint. Since they weren't injured, the complaint mentions pain and suffering damages and the cancelation of their trip as compensable damages.
While you could not sue an airline for a frightening landing, you could sue an airline if they prevented you from getting to your destination or enjoying the rest of your vacation.
Negligent infliction of emotional distress 
Another potential allegation against the airline is that they negligently inflicted emotional distress on their passengers. Essentially, a plaintiff argues that a defendant was negligent and this resulted in emotional distress, panic, or something along those lines. However, negligent infliction of emotional distress cannot, in most cases, be sued for exclusively. For instance, you can't sue someone for saying something mean that ruins your day. There must (usually) be a physical injury to accompany the complaint. It remains unclear, what, if any, physical injuries the plaintiffs acquired from the incident. In the absence of any physical injuries, they would be required to file a breach of contract lawsuit against the airline for failure to safely deliver them. However, such lawsuits tend not to result in large payments, and that is not the basis on which this lawsuit has been filed.
Airline negligence 
The plaintiffs are accusing the pilots of attempting to land the plane at all costs regardless of the safety issues involved. It's unclear why this landing was rougher than most landings, but certainly, a pilot forcing an aircraft to land when it wasn't ready could cause serious injuries. Again, however, injuries are not among the listed complaints in the lawsuit. Certainly, an airline would be responsible for botching a landing that caused injuries to their passengers.
Talk to a Miami Personal Injury Attorney Today 
If you've been injured due to the negligence of another party, the Miami personal injury attorneys at the office of Alan Goldfarb, P.A. can file a lawsuit on your behalf and recover damages related to your injuries. Call today to learn more.
Source:
charlotteobserver.com/news/local/crime/article252777398.html