Dog Bite Leads to Amputation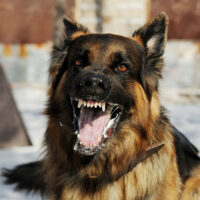 A Texas man claims that part of his foot had to be amputated after two dogs bit him. He is now filing a lawsuit against the dog's owner, seeking $1 million in damages. The plaintiff alleges that the dogs were allowed to run loose in defiance of county-wide ordinances. According to the plaintiff's attorneys, the plaintiff was bitten on his left foot and doctors had to amputate half of his foot in order to save the rest of his leg and perhaps his life.
Injuries Involving Amputation
Injuries that cause permanent disfigurement to the body are among the most handsomely compensated. This is because, not only is there permanent disfigurement, but the amputation reduces the victim's mobility. This may compromise their ability to do their job or perform activities that they once enjoyed.
In amputation cases, there is always a question of whether or not the injury will impact the plaintiff's ability to do their job. In cases where the plaintiff is no longer able to do their job, they can be compensated for lack of employability which also has a hefty dollar sign attached to it.
Then, there's the issue of pain and suffering. Those with permanent disfigurement or lose parts of their body have to adjust to life. Dog attacks in particular can be quite traumatic and this victim will have a permanent reminder every time he attempts to walk or stand.
In other words, amputation injuries are some of the most difficult for injured parties to deal with, won't ever heal, and may compromise their employment situation.
Florida's Dog Bite Statute
In Florida, you are allowed to bring a personal injury lawsuit against a dog owner up to four years after the incident occurred. Florida is a strict liability state when it comes to dog bites. That means that the dog's owner is responsible regardless of whether or not they knew the dog was a threat or the dog had bitten another person prior. In other states, the dog's owner is required to have known or should have known that the dog posed a threat to others. Those are called negligence states.
Even in strict liability states, the plaintiff's hands must be clean. That means that they're not trespassing, didn't incite the dog, and they were either in a public place or invited onto the premises of the dog's owners. In other words, trespassing or taunting the dog is a defense to a dog bite lawsuit.
In this case, the plaintiff contends that the dogs were loose or off the property when he was bitten so the owners of the dog will have no viable defense if that turns out to be true.
Talk to a Miami Personal Injury Attorney Today
If you've been bitten by a dangerous dog or lost a limb in an injury accident, the Miami personal injury attorneys at the office of Alan Goldfarb, P.A. can help you recover damages for your injuries. Give us a call or talk to us online to set up a free consultation today.
Resource:
setexasrecord.com/stories/519828732-dog-bite-led-to-foot-amputation-lawsuit-alleges
https://www.goldfarbpa.com/woman-has-toes-amputated-after-pedicure/