Exploding Beer Bottle Lawsuit is Settled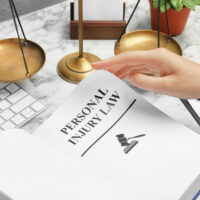 An exploding beer bottle lawsuit was settled under seal recently in Pennsylvania. The plaintiff claimed that the beer bottle exploded causing injuries. According to the complaint, plaintiff John Fralic was attempting to load a bottle of Erie Brewing Co.'s Soleil Shandy into a cooler when the bottle exploded. South Erie Beer was also named in the lawsuit. A series of other defendants were added to the list including the beer's distributor and packager. Then, the defendants started filing claims against one another.
The plaintiff claimed that the exploding bottle caused damage to his left eye and that he now has an ongoing (and potentially permanent) impairment to that eye. He also claims that he suffered a concussion and whiplash. The lawsuit was filed in federal court because Fralic lives in a different state. Since the settlement was confidential, no other information concerning Fralic's compensation is known at this time.
Exploding Bottle Lawsuits
Exploding bottle lawsuits are not necessarily unusual. Corona recently faced a wave of lawsuits alleging that it had defectively designed or manufactured their bottles resulting in serious injury to some of its customers. In one case, a Corona bottle exploded in a restaurant worker's hand spontaneously as he placed it into an ice bucket. A piece of the glass lodged in the man's eye resulting in complete vision loss in that eye. The restaurant stopped carrying Corona's in solidarity with their injured coworker.
But the question is: Why do some bottles explode while others don't? The answer may be as simple as the brew being over carbonated. In instances where the beer is bottled before the fermentation process is complete, the carbon dioxide can build up enough pressure to cause the bottle to explode. This is not new science. When this happens, it's a matter of the company producing the beverage failing to abide by standard safety procedures in order to mass produce their product at a faster clip.
Another man filed a lawsuit after suffering permanent disfigurement to his hands and arms and yet another had his vision reduced to 20% after a shard of glass exploded into his eye.
Craft Beverages May be at Greater Risk
As stated earlier, if the beer is bottled before the fermentation process is complete, then the bottle will be at increased risk of exploding. This is particularly relevant as more craft beers begin to add fruit to their bottles.
In one case, two companies that produced a "sour IPA" that was composed of pineapple among other ingredients. Later, there was a Reddit thread warning craft beer enthusiasts that the cans had a propensity to explode. The fruit caused the fermentation process to continue after the beer had been bottled. The process is known as refermentation. While some believe this is dangerous, craft beer enthusiasts insist that certain processed make for a better beer. However, customers deserve to be warned of the potential dangers.
Talk to a Miami Product Liability Attorney
If a defective product has caused your injuries, set up a free consultation with the Miami personal injury attorneys at the office of Alan Goldfarb, P.A. today.
Resource:
goerie.com/news/20191203/lawsuit-over-exploding-erie-beer-bottle-fizzles-out
https://www.goldfarbpa.com/woman-suffers-severe-injuries-after-drinking-liquid-nitrogen/