Prevailing Industry Standards Not Applicable To Product Liability Case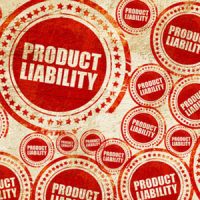 Professional malpractice lawsuits use a different standard than most other negligence claims. Essentially, to prove professional malpractice, the defendant's service is compared against the industry standard. If their service is found to be less than the industry standard, and that harms their patient or client, then they are liable. This standard, however, is not used in product liability cases.
Product liability cases are not professional malpractice claims. Instead of comparing a product or manufacturer's conduct to the industry standard for their profession, manufacturers are strictly liable when their product injures or kills a customer. It doesn't matter if the company was negligent or not. The plaintiff need only establish that their injuries were the result of the product defect, and they were using the product in a way that could be readily anticipated by the manufacturer.
Nonetheless, it didn't stop one company from attempting to present evidence that their precautions were in line with industry standards. However, the court refused to allow them to present this evidence at trial.
"Industry Standards" defenses 
Just such an issue was resolved in 2019 in Pennsylvania. A plaintiff claimed that they were injured by the defendant's product. The defendant wanted to present evidence that their safety standards met or exceeded industry regulations. The judge would not allow this evidence to be presented at trial. Why not? Well, a jury hearing this evidence might think that there was nothing that the company could have done differently. Even in cases where there truly is nothing that could have been done differently, it is not a defense to a product liability claim. Companies are strictly liable for the products they place into the stream of commerce.
What does this mean for your product liability claim? Well, if you are injured by a dangerous or defective product, the company you are suing would not be allowed to introduce evidence that they met or exceeded industry safety guidelines nor compare their product to other products in the market. They can do that in their advertising campaigns, but jurors in a product liability lawsuit would not be able to hear those arguments because they are largely irrelevant to the cause of action they are deciding on.
On the other hand, industry standards defenses do work in professional malpractice claims where they are the standard that must be met. If you are injured by a medical doctor, your attorney will compare your doctor's actions to the recommended industry guidelines and provide the jury with expert testimony to discuss how the defendant deviated from those standards.
Talk to a Miami Personal Injury Lawyer Today 
If you are injured by a dangerous or defective product, call the Miami product liability attorneys at the office of Alan Goldfarb, P.A. to discuss your situation in more detail and allow us to begin preparing your complaint.
Source:
natlawreview.com/article/despite-tincher-pennsylvania-superior-court-determines-industry-standards-still-not