Florida Doctor Indicted On Charges Related to Surgical Mesh Lawsuit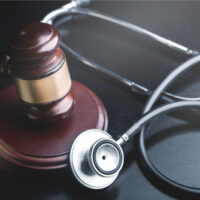 It's deeply frustrating to hear a story about those involved in major personal injury cases behaving poorly as a way to increase the value of their cases. It's even more maddening to hear that they put vulnerable people at risk to do so by fraudulently claiming that they were in imminent danger. However, in one case, the law worked and now a Florida doctor is being indicted on charges related to a surgical mesh lawsuit.
Investigators claim that Dr. Christopher Walker and Wesley Blake Barber, a medical consultant, conspired to fraudulently persuade women to have surgical meshes removed in order to bolster the value of a class action against the companies that produce surgical meshes.
Surgical Mesh Lawsuits
Transvaginal meshes were developed to help women with pelvic organ prolapse and other related conditions. They help support the bladder and prevent symptoms related to organ prolapse. Since this is very common for women, especially as they get older, millions of these meshes were installed. For some women, however, the solution was worse than the problem.
The meshes became infected causing severe pain, organ perforation, permanent injuries and in extreme cases, death. This resulted in a number of lawsuits being filed against the companies that produced these devices. These same companies were able to fast-track approval from the FDA based on the fact that the meshes were similar to other medical devices that had been cleared. However, the regulatory process that protects patients from defective devices failed, resulting in tragic consequences.
The Case Against Dr. Walker and Wesley Barber
The men are charged with paying bribes and kickbacks to entice women to have vaginal meshes removed. The sense of doing this was to increase the value of litigation against the many companies whose products proved defective. It's important to note that a relatively small number of women who had these implants installed actually suffered severe complications from them. By paying potential plaintiffs off, the men were trying to inflate the scope of their case.
Who does this hurt? It hurts actual victims of the transvaginal mesh by increasing the plaintiff pool. Additionally, it can prove disastrous for the women who were paid to have the meshes removed especially when the meshes are working as advertised.
In addition, these men duped some women into borrowing against a potential settlement to pay for the surgery regardless of whether or not they actually received a settlement.
As you can imagine, mass tort litigation is a big business and there are a number of unsavory characters who are looking to cash in. As a general rule of thumb, if someone has to convince you that you have a problem, you don't. Just consider yourself lucky that you're not one of the thousands of women who suffer with serious pain every day because their mesh caused serious internal injuries.
Talk to a Miami Personal Injury Lawyer
If you've been injured by a medical device, the Miami personal injury attorneys at the office of Alan Goldfarb, P.A. can help you recover damages related to your injuries. Talk to us soon for a free consultation.
Resources:
nytimes.com/2018/04/14/business/vaginal-mesh-surgery-lawsuits-financing.html?module=inline
nytimes.com/2019/05/24/business/vaginal-mesh-surgery-arrests.html
https://www.goldfarbpa.com/pelvic-mesh-lawsuits-criticized-by-surgeons/