Second Lawsuit Says Nursing Home Ignored Signs of Patient Abuse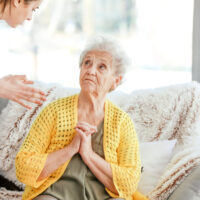 A second patient has filed a lawsuit against Friendship Health & Rehab stating that the nursing home staff and administration ignored clear signs of patient abuse. The lawsuit alleges that one staffer, Richard Coleman, a certified nursing assistant sexually assaulted one of the patients violently enough to cause substantial bleeding. The rape occurred in 2017 but an attorney for the family says that there were clear signs before that rape that Coleman was unstable.
The attorney accuses Coleman of verbally and physically abusing the victim prior to the rape. The woman has since passed away. The lawsuit has been recently filed and is one of two against the nursing home fingering Coleman for inappropriate conduct.
The same Coleman who raped an elderly bed-ridden patient was also accused of sexually harassing at least four female nurses at the facility. Coleman is facing four counts of sexual abuse.
Did the Nursing Home Ignore Signs?
Part of the lawsuit against the nursing home is that they ignored clear signs that Coleman was a problem-employee. The alleged rape occurred six months prior to Coleman being fired amid sexual harassment claims. However, for the sexual harassment claims to have escalated to the point of a lawsuit, the nursing home probably did not follow the proper procedures for dealing with sexual harassment in the workplace.
Even more problematic, two of the women who reported Coleman were only 17 at the time the alleged sexual harassment occurred. One seventeen-year-old reported that Coleman prevented her from leaving a linen closet and forcibly embraced her, trying to kiss her.
Each of these incidents occurred prior to the rape of one of the nursing home's residents and the attorney for the family notes that had the nursing home taken these allegations seriously and acted on that information, the rape could have been prevented. The attorney blames the nursing home for not only allowing him to continue to abuse those around him, but actually enabling him by giving him access to a vulnerable population.
Additionally, there were other signs that Coleman could not be trusted around patients. Someone left an anonymous note reporting that Coleman used duct tape on another resident's mouth to keep them from shouting out.
Punitive Damages in Nursing Home Abuse Cases
In order to secure punitive damages in a nursing home abuse lawsuit, it is necessary to show that the negligence of the nursing home or staff was so egregious that it made some type of event that is actionable almost inevitable. This lawsuit is an excellent candidate for punitive damages. Here, you have administration turning a blind eye to multiple claims of sexual impropriety against a specific staff member. It also has reports that the staff member is abusing the patients. The nursing home fails to act, and one of their patients is raped. That's as clear an argument for punitive damages as a case is likely to have.
Talk to a Miami Nursing Home Abuse Attorney Today
If your loved one is being abused or neglected by the staff that is tasked with overseeing their care, the Miami personal injury attorneys at the office of Alan Goldfarb, P.A. would take great delight in seeing these parties held accountable for their cruelty and incompetence. Talk to us today for a free consultation.
Resource:
wdrb.com/news/second-lawsuit-filed-against-oldham-county-nursing-home-alleging-abuse/article_638e2640-f049-11e9-9cdd-dfff0da0d475.html
https://www.goldfarbpa.com/psychiatric-hospitals-negligence-implicated-in-rape-of-inpatient/